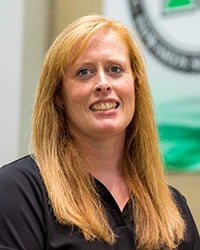 Elizabeth "Beth" Dial of Scottown, Ohio, was awarded a $2,000 scholarship in Ohio's Electric Cooperatives' Technical Scholarship competition.
Dial has been a member of Buckeye Rural Electric Cooperative for 12 years. She has enrolled in the Registered Nurse program at Collins Career Technical Center, and is currently an LPN at Marshall University's Department of Orthopaedic Surgery, in Huntington, W.Va.
"Getting this scholarship will help me get closer to my goal of going back to school to obtain this degree," said Dial. "I want to show my daughter that no matter how old that you are, there is still room to grow in knowledge, and that you are never too old to learn new things."
Ohio's Electric Cooperatives offers its Technical Scholarship to electric cooperative members or their children to pursue technical training. Since starting this scholarship in 2017, OEC has awarded $15,500.