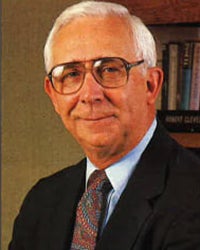 Robert N. Cleveland, president and CEO of Ohio Rural Electric Cooperatives and Buckeye Power from 1977 to 1989, passed away earlier this month at the age of 94 in Virginia.
Cleveland served electric cooperatives for more than 40 years, starting as a board member for Kentucky's Shelby Rural Electric Cooperative at the age of 21. In addition to his service to OREC and Buckeye Power, Cleveland worked for Kentucky, Colorado, and North Carolina statewide associations, and served as vice chairman of the Electric Power Research Institute.
In his 12-year tenure with OREC and Buckeye Power, Cleveland played an instrumental role in the completion of Cardinal Unit 3 and the passage of legislation that protected the integrity of Ohio co-ops' territorial boundaries.
Click here to view an article on Cleveland's career, which appeared in the October 1988 issue of Country Living.