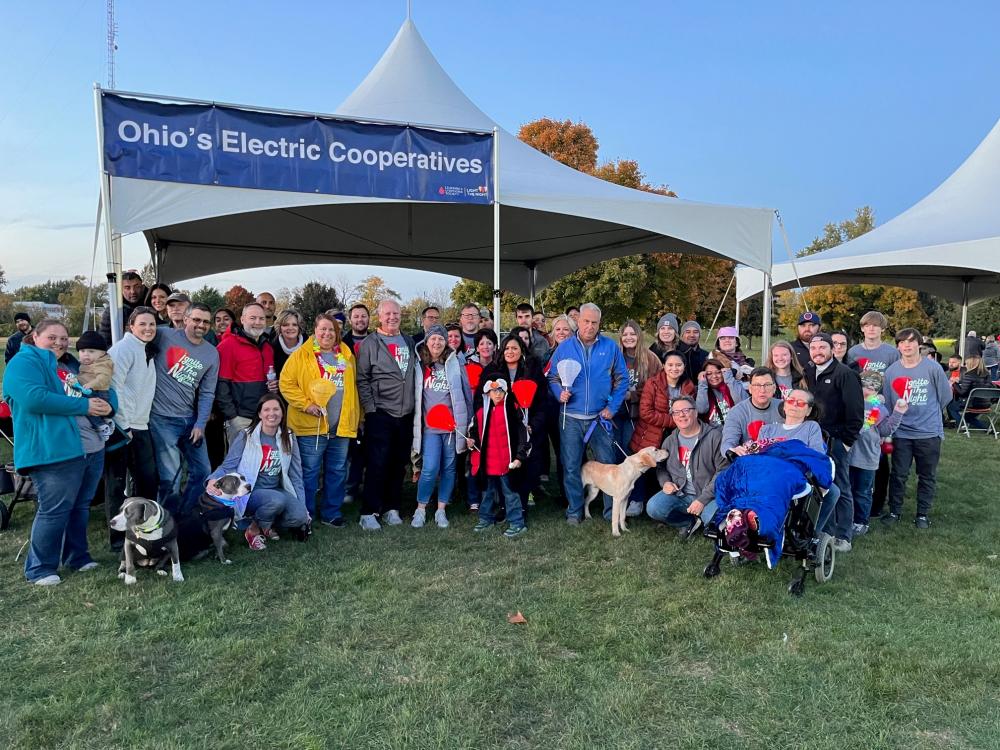 The following article was written by Victoria A. Rocha, staff writer for NRECA.
Next summer is almost a year away, but Ohio Electric Cooperatives' Doug Miller already has plans: hosting three dinner parties with sunset boat cruises at his lakefront house for dozens of Ohio co-op employees and their friends and families.
The dinner-cruise combos were hot commodities during a live auction this summer, raking in about $12,000 to benefit the Leukemia and Lymphoma Society. Those proceeds fed into the overall total of $108,000 raised by OEC for the charity this year, making it the top of 30 corporate teams in Columbus for the second year in a row.
"We donated a dinner party for last year's auction, not knowing how popular it would be. We thought we'd raise maybe a few hundred dollars," said Miller, whose wife, Jody, helps with the cooking and hosting.
In OEC's four-year association with LLS and its Light the Night event, the statewide association and its members have raised more than $272,000 through silent auctions, vendor contributions and individual employee fundraisers. The money goes toward research, advocacy and support for blood cancer patients and their families.
"Each year, it's gotten a little bigger, and this is the second consecutive year that we've overtaken American Electric Power," a major investor-owned utility in Ohio, said Erin Shah, OEC's accounting manager and fundraiser captain. "Last year, we raised $79,000, so we increased quite a bit in one year."

OEC has raised funds for the Leukemia & Lymphoma Society's Light the Night event for the past four years. (Photo By: Caryn Whitney/OEC)
At the heart of the fundraising efforts are OEC's Tom Alban and his wife, Mary Beth, who's been fighting non-Hodgkin lymphoma since being diagnosed in 2000. Complications from her treatment in 2015 left her disabled.
"Mary Beth describes the fundraisers as 'making lemonade,' turning a crummy situation into something good, finding the positive in it. Which is what she always does," said Alban, vice president of power generation at Buckeye Power.
In addition to the annual Light the Night event, employees raise money all year long. This year, $27,000 from the live auction accounted for the largest share of funds. Employees from several of the state's 24 distribution co-ops donated prizes.
The auction sparked co-ops' competitive spirit as they tried to outdo each other to create elaborate themed baskets showcasing their communities. "I know they don't do it for the recognition of being top fundraiser, but the level of creativity and time they commit is really inspiring," said Pat O'Loughlin, the statewide association's president and CEO.
Employees' enthusiasm toward fundraising activities has helped make OEC a "model for other corporate teams," said Liz Antel, a regional LLS campaign development director.
"When people ask me, 'how can I be a better corporate team,' I use them as my best practices model," Antel said. "They're my favorite people to work with."
A personal connection also helps, and that's where Alban, a quiet leader, comes in.
"Our organization was growing in 2019, when I suggested the notion of a corporate fundraising team," he said. "Our employee committee jumped on it and embraced it."